66
BIAF2020 Poster by Marona's Fantastic Tale, Director Anca Damian Reveals.
2020-05-13 09:51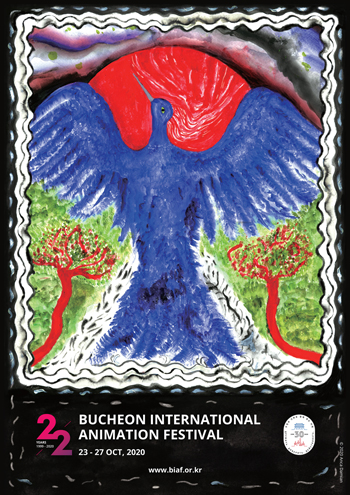 The 22nd Bucheon International Animation Festival (BIAF2020), taking place October 23-27. 2020, Bucheon, South Korea has announced that this edition
's official poster created by Anca Damian, director of BIAF 2019 Grand Prize & Audience Prize winning feature film Marona
's Fantastic Tale.
She has previously won prestigious honors including the Annecy Cristal for
Crulic
– The Path to the Beyond
(2011) and the Animafest Zagreb Grand Prix for
The Magic Mountain
(2015).
Statement
"I always was attracted by the oriental painting, but also felt overwhelmed craft of the painters. Making the poster I was searching to find an idea that combine a Korean landscape that I liked (with symmetrical mountains, rivers and trees, having the sun and moon in the time), with the bird from the Korean folk painting. The idea that stays behind the poster is that everything is connected - the energy flows in physical forms. The wings of my bird forms the mountain, and the source of water surrounds her tail, while her crest is dissolving in the sun" .
Anca Damian is also creating the official festival trailer for BIAF2020. She will return to Bucheon, this fall as a member of the festival
's feature film competition jury.