57
Special Exhibition of <This Magnificent Cake!> at BIAF2019...
2019-10-04 21:51
Special Exhibition of
at BIAF2019
-Appreciate and Experience at Once!-
The 21
st
Bucheon International Animation Film Festival (hereinafter BIAF2019) provides meaningful enjoyment to the audience with 8 exhibitions from 4 sections including Ani-Master Exhibition, Ani-Fair Exhibition, and Ani-Special Exhibition. Especially, Ani-Master Exhibition is an eye catcher since it will introduce the BIAF2018 Feature Film Grand Prize .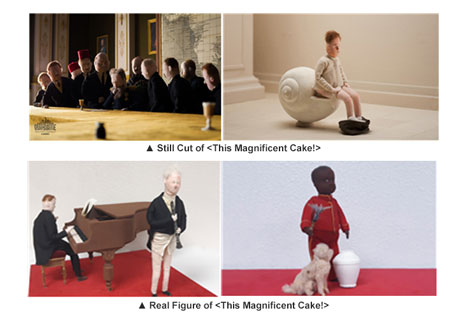 The film was considered the best animation of 2018 and received great attention from all over the world including
–
Cannes Directors' Fortnight short film competition, Andre-Martin Award at the Annecy Intermational Animated film Festival, Best Feature Film Grand Prix at the Animafest Zagreb, Feature Grand Prix at the Ottawa Animation Film Festival, and the BIAF2018 Feature Film Grand Prize. The film was also nominated for the 2020 César Award, French equivalent to the Academy Award. It has been praised for being valuable and elegant to be recorded on important pages in the history of animation, and locally, it is considered as a must-see after the BIAF2018 screening.
is a stop-motion animation, a filming technique that shoots with a camera of the movements of a stationary object little by little per frame as if the object is continuously moving. The BIAF2019 Ani-Master Exhibition will showcase the actual set and dolls used in the filming of and the entire process of the production to present the beauty of stop-motion animation
In addition, will be screened twice at the BIAF2019 'BIAF Classic' section and provide a very special chance to enjoy the film and the exhibition at once. It will be a good opportunity to be more accessible and present a new view on the film for those who have been waiting for since BIAF2018.
In addition, with various exhibitions such as 'Promotion College Hall', 'Company Hall', and 'VR Experience Hall' at Ani-Fair Exhibition and 'International Animator & Cartoonist Invitation Exhibition' at Ani-Special Exhibition, it will provide meaningful enjoyment to the visitors of BIAF2019.
Academy Award qualifying international film festival, BIAF2019 will meet the audience through various exhibitions and attractions from October 18-22 at Bucheon City Hall, Korean Manhwa Museum, Bucheon CGV, and Megabox COEX.
www.biaf.or.kr
. Bucheon, South Korea.